From concept to completion, K&W coordinates and integrates all of the site design and related services needed to finish your project on time and on budget. Let our expert staff guide your ideas from the feasibility stage through detailed site design and into construction, securing your required approvals along the way.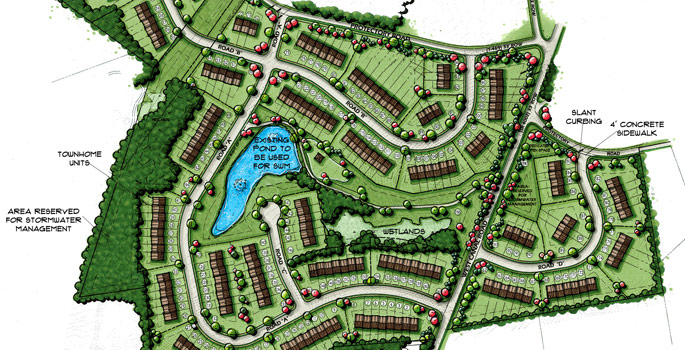 Site Planning And Design
Pedestrian and vehicular circulation patterns…environmental challenges…space limitations…regulatory agency requirements.  These are just a few of the numerous considerations we evaluate when developing a site plan.  As our client's goals and the project's end user shape our design, we apply proven technical expertise interwoven with an eye for aesthetics and an awareness of functionality.  All within the budget and timeframes our clients expect.  Every project has its own narrative and we work hard to make it a success story.
Site Analysis and Feasibility Studies
Due Diligence Investigations
Sketch and Conceptual Planning
Site Master Planning
Site Layout and Grading
Stormwater Management Design
Utility Design/Coordination
Sustainable Design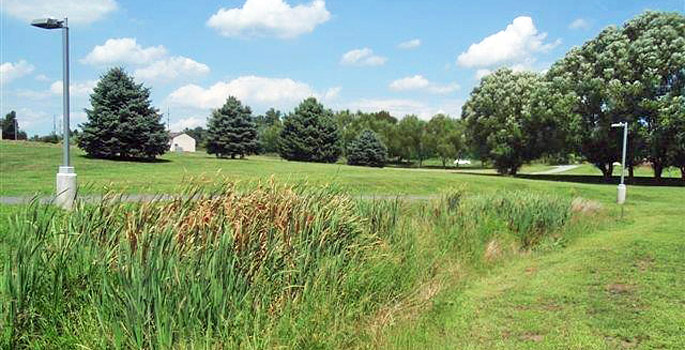 Civil Engineering
At the heart of every site development plan are the fundamental technical design elements that make a project work.  A thoughtful evaluation of the property, research into regulatory requirements, knowledge of client goals and operational capabilities and proven engineering expertise ensure that those components function as intended.  We believe that our clients and end users are best served when they don't even notice a roadway design, stormwater management basin, or retaining wall because those features have been seamlessly integrated into the landscape and overall feel of the project.  Excellent engineering does not need to be seen…it needs to work.
Roadway Design
Storm Sewer System Design
Stormwater Management Facilities Design
Water Distribution System Design
Sewer Collection/Conveyance System Design
Best Management Practices Facilities Design
Floodplain Analysis and Modeling
Stream Restoration
Bridge / Culvert Hydraulics
Construction Document Preparation
Bidding Administration
Construction Observation
Sustainable Design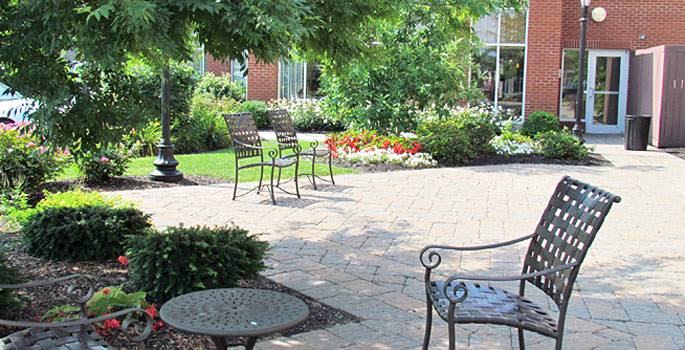 Landscape Architecture
Landscape architecture refers to the integration of multiple elements that are technical, environmental, aesthetic, sustainable, functional, ecological and even social. Our design teams evaluate and incorporate these aspects into designs which interact with the surrounding environment (both natural and man made). Through an intentional mix of registered landscape architects, civil engineers and designers, our clients benefit from a collaborative process which results in visually-pleasing, functional and cost-effective site solutions delivered on time and on budget.
Site Inventory and Analysis
Site Selection Evaluation
Sketch and Conceptual Planning
Master Planning
Site Layout and Grading Plans
Site Circulation Evaluation and Design
Landscape Plans
Hardscape Plans
Athletic Facilities Planning and Design
Parks and Open Space Design
Sustainable Design
Construction Document Preparation
Bidding Administration
Construction Observation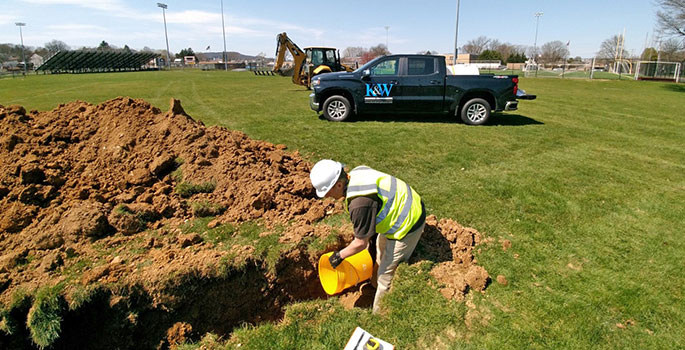 Geotechnical Services
Geotechnical evaluations are critical to overall site design and construction success. Major issues can arise during site development from problematic carbonate geology, challenging subsurface conditions, or other site constraints such as steep slopes. In the early stages of a project, we provide geotechnical engineering analyses that evaluate potential impacts of subsurface conditions. Our geotechnical professionals work with owners and project teams to ensure site layouts and grading plans allow for thorough management of subsurface risks. We can also be retained to monitor the site and provide inspections during construction.
Infiltration Testing via Double-Ring Infiltrometer Method
Percolation Testing via Cased-Pipe Method
Carbonate Assessment / Karst Evaluations
Sinkhole Review and Repair Recommendations
Geotechnical Explorations and Engineering Analysis
Pavement Cores / Pavement Evaluations, including Repair Recommendations
Pavement Design Analysis
Laboratory Analysis of Soils
Basin Construction Inspection Services
Construction Observation Services
Construction Drawing Inspections / Reviews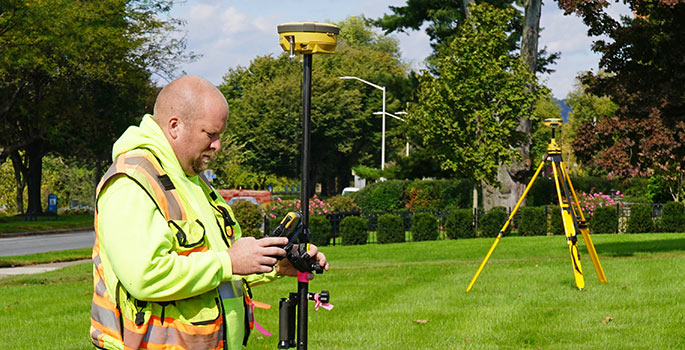 Land Survey
Successful site improvement projects require a solid foundation on which a quality design can be built.  Our seasoned surveyors produce complete, detailed, and accurate boundary and topographic surveys which provide that foundation.  Through coordination with design staff, we identify key issues of a site, prior to performing field work, to ensure that critical elements are captured and incorporated into the final product.  Subsurface utility investigations, extensive deed and courthouse research, and attention to detail are just a few of the tools we employ to produce a high quality product with no surprises.
Boundary and Topographic Surveys
American Land Title Association (ALTA) Surveys
Utility Route Surveys
Geodetic Control Surveys Utilizing GPS
Construction Surveys and Stakeout
Record Surveys for Municipal Approvals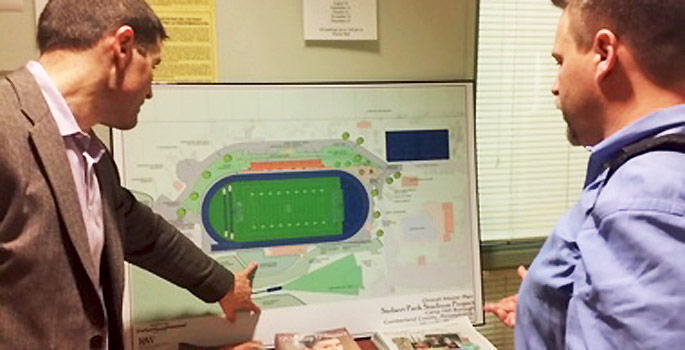 Permitting And Regulatory Agency Approvals
No matter how technically sound or aesthetically pleasing a site design may be, it cannot come to fruition without securing the necessary approvals and permits.  This element of the project is often the most critical and requires just the right mix of finesse combined with the appropriate level of persistence.  By engaging review/approval agencies early and often, the ability to manage multiple processes simultaneously and effective public presentations, we provide clients with a level of comfort and confidence as we navigate the regulatory approvals processes.
Public presentations
Zoning Applications
Land Development and Subdivision Plans
Erosion and Sediment Control Plans
National Pollutant Discharge Elimination System (NPDES) General and Individual Permits
PennDOT Highway Occupancy Permits (HOP)
PaDEP Chapter 105 Water Obstruction & Encroachment General Permits
Sewage Facilities Planning
PaDEP Water Obstruction and Encroachment Permit / U.S. Army Corps of Engineers Section 404 Permits ("Joint Permit")
Municipal Engineering
We understand that working with townships, boroughs and cities requires a unique set of skills.  A Municipal Engineer must be able to mediate among community stakeholders and also present complex information in a clear and understandable way to the public. In addition, they must possess exemplary technical expertise in storm water, waste water, traffic, water supply and many other areas to effectively address all of the engineering issues municipalities may face.  With extensive site design experience and a history of advising governmental entities, we are uniquely qualified to understand projects from different perspectives and can provide a balance to affect "win-win" solutions for the parties involved.
Infrastructure Design and Permitting
Subdivision and Land Development Plan Review
Zoning Ordinance Review
Public Improvements
Construction Monitoring
Ordinance Preparation
Public Presentations